ISSP2017: Exhibit
The ISSP Panel Exhibit will be held in conjunction with The 14th International Symposium on Sputtering and Plasma Processes (ISSP2017) at Kanazawa Institute of Technology from July 5 to 7, 2017. It will feature the broad spectrum of equipment, instruments, materials, systems, services, etc. for sputtering and plasma processes. At the last Exhibit, ISSP2015, 17 companies exhibited their offerings, and exchanged the information with about 220 attendees. This is the best opportunity for you to present, face-to-face, your products and services to a vital market. The Panel Exhibit will be opened parallel to ISSP2017 poster presentation at the same room. The ISSP2017 committee requests your company to attend this exhibition as an exhibitor. Please don't miss the terrific opportunity!
Your presentation at the technical session of the symposium is strongly recommended as well as the panel exhibit, which is expected to dramatically improve the impact of your company. (In this case, please apply as a normal presenting author.)
Notice: the ISSP2017 Panel Exhibit is NOT the Manufacturer's Presentation which will be included in the technical program.
ISSP2017 Exhibitors
COSMOTEC Corporation
SHINCRON CO., LTD.
FUJI KOEKI, LTD.
SHOWA SHINKU CO., LTD.
General Bussan Co., Ltd.
Sputtering Components Japan Inc.
Hiroshima co., ltd.
TOKYO ELECTRONICS CO.,LTD.
Huizhou Top Metal Material Co., Ltd.
Thermocera Japan Ltd.
Tosoh Corporation
Ionautics
J. A. Woolam Japan Corporation
ULVAC CRYOGENICS INCORPORATED
JX Nippon Mining & Metals Corporation
ULVAC, Inc.
OSAKA VACUUM, LTD.
USTRON CO.,LTD
PEGASUSĦĦSoftware Inc.
VON ARDENNE GmbH
Exhibit Details
Scope
Process equipment (sputtering, evaporation, MBE, CVD, ALD, etching, etc.)
Analyzer, analysis service, controller, simulation program and measurement apparatus
Related materials and components (Sputtering target, Plasma source, etc.)
Location and term
Location: Kanazawa Institute of Technology
Term: July 5 and 6; From 17:00 to 19:00, July 7; From 15:00 to 17:00 (Closing time is tentative.)

Poster session is held at the same time and location.
Symposium: From 10:00 July 5 to 17:00 July 7
Exhibit fee
¥120,000/unit (Japanese yen, including taxes)
(Including the exhibit fee ¥100,000 and the registration fee ¥20,000)
Special favor
The exhibitor can show one-page per unit monochrome advertisement on the programs (print media) and one-page, color advertisement on the proceedings (CD-ROM) for free. Please tolerate that the printing quality is not so high grade.
We prepare a link to your home site on our web page, http://issp2017.jp/, according to your request.
In accordance with the request of exhibitor, an automatic CM slide presentation by Powerpoint (without sound, 30sec per unit, no page limit) will be available during the break time of oral session. (Details will be informed later.)
How to apply
Please fill the application form (Microsoft Word Document) and send it to exhibit@issp2017.jp by email.
Please attach the banner image file of your company, in case that you wish to make link point of your company's home page on the ISSP2017 web site.
Deadline: May 15, 2017
If you want to apply the advertisement on the proceedings and on the programs, please send a PDF file (font embedding, one page per unit) to the committee office.
Policy
Description language is English.
At least one person is required to explain the panels. He/she is entitled to attend all the session of ISSP2017 for free.
For extra two persons of exhibitor, the registration fee is ¥20,000 per person. From the 4th person and up, please register as a normal participant.
The carriage of all the exhibiting materials is to be made by yourself.
Don't remove the panel before the closing of ISSP2017.
Configuration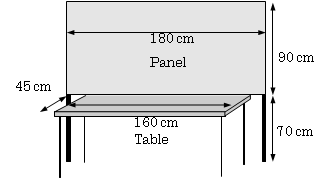 One unit of exhibition space consists of a panel of about 180 cm (width) x 90 cm (height) and a desk of 160 cm (width) x 45 cm (depth) x 70 cm (height).
The total weight of exhibiting materials on the desk should be less than 10 kg.
If you need more space, you may use multiple exhibition units by paying additional fee. The acceptance will be informed later.
Utilities of electrical power are available for personal computer use. It, however, is limited to 2 A (AC 100 V).
If you would like to make any special exhibition, please consult with us.
ISSP2017 Office
Advanced Material Science Center, Kanazawa Institute of Technology
3-1, Yatsukaho, Hakusan, Ishikawa 924-0838, JAPAN
TEL: +81-76-274-9250 FAX: +81-76-274-9251
E-mail: exhibit@issp2017.jp
Exhibitors of the Past ISSP Exhibit
Advanced Energy Japan
AIMEC Corp.
APEX Corp.
ASTECH Corp.
BOC Coating Technology
Canon ANELVA Corp.
CSM Instruments SA
Dan-Takuma Technologies Inc.
EIKO Corp. /EIKO Engineering Co., Ltd.
ENI JAPAN Ltd.
Fraunhofer-Institut für Elektronenstrahl- und Plasmatechnik
FTS Corp.
Fujikin Inc.
FUJI KOEKI, LTD.
Gencoa Ltd.
Hakuto Co., Ltd.
Heiwa Electric Co.,Ltd.
HEMMI Slide Rule Co.,Ltd.
HITACHI ZOSEN Corp.
Huttinger Electronik GmbH
INI Coatings Ltd.
J. A. Woollam Japan Corp.
JEOL Ltd.
JX Nippon Mining & Metals Corp.
KITANO SEIKI CO., LTD.
Kurt J. Lesker Company
Landmark Technology Corp.
Maintenance Resarch Corp.
MAKPLE Co. Ltd
MARUBUN Corp.
Matsubo Co., Ltd.
MITSUBISHI MATERIALS Corp.

Oerlikon Japan Co., Ltd.
Nano Science Corp.
NANOMETRICS JAPAN
NIHON VEECO K. K.
NOA SYSTEMS Inc.
NTT AFTY Corp.
OXFORD INSTRUMENTS
PEGASUS Software Inc.
SAES GETTERS JAPAN Co., Ltd.
Sanyu Electron Co., Ltd.
Science Technology Co., Ltd.
SHINCRON Co., Ltd.
SHOWA SHINKU Co., Ltd.
Singulus Technologies AG
Sputtered Films, Inc.
Sputtering Components, Inc.
TDY INC.
Techscience Ltd.
THERMO RIKO CO., LTD.
TOKYO ELECTRONICS CO., LTD.
Tosoh Corp.
TOYO Corp.
ULVAC CRYOGENICS INC.
ULVAC JAPAN, Ltd.
ULVAC-PHI, INC.
UNIVERSAL SYSTEMS Co., Ltd.
VACUUM METALLUGICAL Co., Ltd.
VIC International Co., Ltd.
VON ARDENNE GmbH
WaveFront Co., Ltd.
---
Contact to: ISSP2017 Office (
Contact Information
)
---