ISSP2009 10th Anniversary Contribution Award
We, the organizing committee members of ISSP2009, would like to express our sincere gratitude to all companies those participated in the past ISSPs.
In commemoration of the 10th symposium, the 'ISSP 10th Anniversary Contribution Award' was established to recognize companies for their outstanding contributions that made technical sessions or company exhibitions at the past ISSPs successful. We selected thirty-seven companies listed below as the honorees of this award. We especially acknowledge them for their outstanding contributions.
The commendation ceremony was held on the 1st day of the symposium (July 8th, 2009) at Kanazawa Kokusai Hotel. Twenty-one companies attended this ceremony and were awarded the plaques. Here are photos from the ceremony.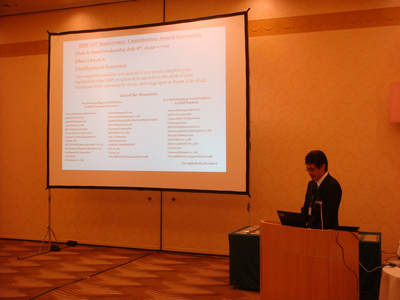 Congratulatory speech (Dr. Naoto Kikuchi, ISSP2009 Committee Chair)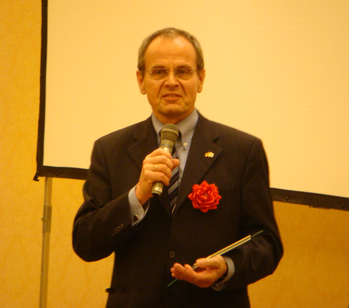 Honoree's speech (Dr. Johannes Strümpfel, Chief Scientist at VON ARDENNE Anlagentechnik GmbH)
Honorees of ISSP 10th Anniversary Contribution Award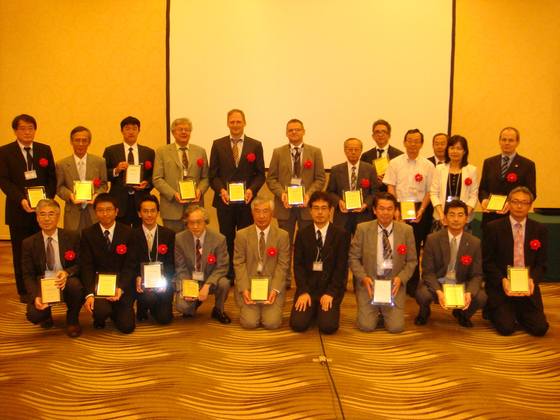 Honorees of ISSP 10th Anniversary Contribution Award
For technical sessions
Advanced Energy Industries, Inc.
Applied Films Corp.
Applied Materials, Inc.
Asahi Glass Co., Ltd.
BOC Coating technology
Canon ANELVA Corporation
General Vacuum Equipment ltd
Hitachi, Ltd.
HÜTTINGER Elektronik GmbH+Co. KG
International Business Machines Corp.
Lam Research Corporation
Leybold AG
LG Semicon Co., Ltd.
Material Research Corp.
Murata Manufacturing Co., Ltd.
NIPPON TELEGRAPH AND TELEPHONE CORP.
OC Oerlikon Balzers AG
Panasonic Corporation
SHINCRON Co., Ltd.
Sony Corporation
Tegal Corporation
TOSHIBA CORPORATION
ULVAC, Inc.
Varian, Inc.
VON ARDENNE Anlagentechnik GmbH
For company exhibitions
Advanced Energy Japan K.K.
ASTECH Corporation
Canon ANELVA Corporation
FTS Corporation
HÜTTINGER Electronic K.K.
NIPPON MININGS & METALS CO., LTD.
PEGASUS Software Inc.
SHINCRON Co., Ltd.
SHOWA SHINKU CO., LTD.
ULVAC, Inc.
Universal Systems Co., Ltd.
VON ARDENNE Anlagentechnik GmbH
---
Contact to: ISSP2009 secretariat (
Contact Information
)
---